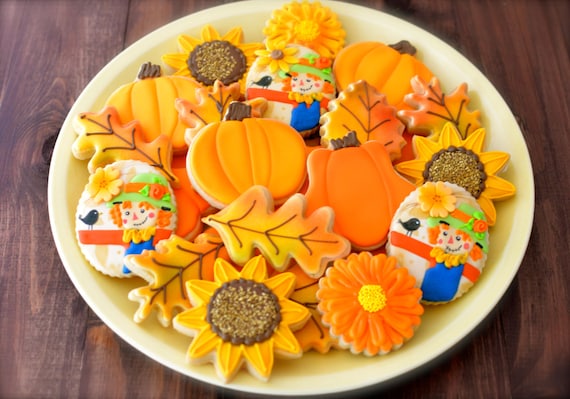 Vegan Fall-themed Sugar Cookies by CompassionateCake on Etsy
I love baking, though I don't do as much of it as I'd like. I especially like baking during the fall, since pumpkin pie spices are a flavor I really dig. Plus, this time of year everyone wants sweets and is eager to eat anything I can't finish. Check out these tasty autumn options!
Easy Cinnamon Rolls
by
Don't Eat Off the Sidewalk
I loooove cinnamon rolls. Gooey, cinnamony rolls with lots of frosting. Back when I would still eat animal products, I'd get Cinnamon Rolls at the mall and pick the one in the tray with the most frosting. Now if I make my own, I drown them in frosting. Not the healthiest, but soooo tasty!
This isn't necessarily a quick recipe, mainly because you want to let the dough raise some to make the rolls fluffy. They're worth the wait, though, especially with the extra pumpkin spices. I don't usually go by the spice measurements in recipes, since I like to mix up my own, but these are still great even if you're not as fly-by-the-seat-of-your-pants as I am.
Mmmmmm cinnamon rolls.
Slow Cooker Caramel Apple Cider
by
Tater Tots and Jello
This one has the option of being simple or a little more difficult, depending on how you want to do it or what your vegan grocery options are. If you want to make your own caramel, you'll just need a
can of coconut milk, sugar, vanilla and salt
to make your own. (Which you should do, homemade caramel sauce is intensely delicious!)
If you prefer, you can
buy some vegan caramel
, either locally if you're lucky or online, and just dump the sauce into your slow cooker. That's the whole recipe, really: dump cider into a crockpot, drop cinnamon sticks (and other spices, if you like) into the crockpot, then dump in the caramel with the cider is done. Then you dump it into a cup, maybe add some booze if you're feeling saucy, and enjoy!
If you have leftover coconut cream, you can whip it into whipped cream and plop some of that and more of the caramel on top of the cider and really rot your teeth! Mmmm.
Sweet Potato Minestrone
by
Sunday Morning Banana Pancakes
Let's pretend we're super healthy for a second. Ooh, look at us! Eating our vegetables and exercising and, uh (psst. What do super healthy people do? Um.) blending grass clippings into our brownies?
Okay, forget super healthy. We can just settle on not eating sugar for every single meal.
I love minestrone, and usually make it the laziest way possible (a jar of pasta sauce dumped into a pot of veggie broth filled with vegetables I bought pre-cut) but this recipe's worth doing a little more work. It's autumn, so if you'd rather use pumpkin than sweet potato (not that sweet potatoes aren't autumnal!), I'm sure it would work. Either way, it can be eaten with a giant hunk of crusty bread and isn't gorging yourself on carbs
really
what the season is about?
Toasty Pumpkin Chickpea Fritters
by
Happy Healthy Life
Hey! Look! another recipe that isn't sugar!
Gwen
would be so disappointed in me.
Anything in fritter form I'm probably gonna like. As far as I understand it, fritter is loosely translated to "fried thing wrapped in bread crumbs." I don't know what language it's translated from, but probably something fancy and special like Latin or Ancient Greek. (
Maxwell
told me this is true, and that he is a science cat so I have to believe him.)
Anyway, fritters look delicious, and these look especially tasty, what with the pumpkin and chickpeas inside. I bet they'd go pretty good with that minestrone up there, too.
In other news, thanks to everyone who came and said hello during the blog hop! Per the random number generator,
Corey Clancy
is the winner!
(I didn't count Evernight's comment, since they're not really eligible.)
Congratulations, Corey
!